I have tried many social media plugins on different WordPress sites. During my previous jobs, freelance work, and on my personal blogs. The problem with most WordPress social media plugins is that they are usually full of features that I don't need. Just like most other bloggers, I also want simple buttons that make it easier for users to share content. I don't want to copy Mashable, or TechCrunch, I just want something that is not too obstrusive and just works. In my quest for best social media plugin I often ended up with something slow and bloated. Recently, my boss Syed Balkhi released Floating Social Bar plugin which solved the problem for me.
Like I said earlier that most bloggers just want a simple and elegant solution to add social media buttons with their articles and posts. I think Floating Social Bar solves this problem.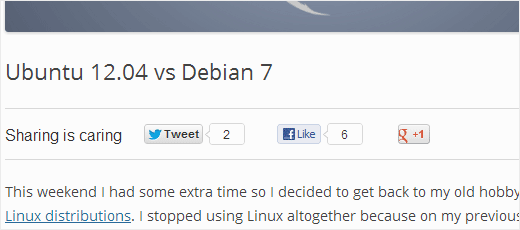 Speed: Floating social bar loads faster than other social media plugins for WordPress. Most other plugins just slow down your site too much and ruin the page speed and user experience.
Compact: There are just a few social media websites included in the plugin. These are the websites that most people actually use and are more likely to share your content on these websites.
Non-Obstrusive: Unlike other social media plugins which scroll down and follow your eye balls, Floating social bar sticks to its position at the top and gets out of the way. It is really annoying when I am reading an article and a huge ugly social media widget is right next to the text. Floating social bar sticks at the top and if you want you can disable that feature too.
Who should use Floating Social Bar?
If you care about user-experience on your website and find other plugins bloated and difficult to use and configure then you will like Floating Social Bar. It is very easy to install and set up. Simple install and activate Floating Social Bar plugin and go to Settings » Floating Social Bar to configure the plugins. Drag and drop social media websites you want to include and add your twitter username. Save your changes and preview your website.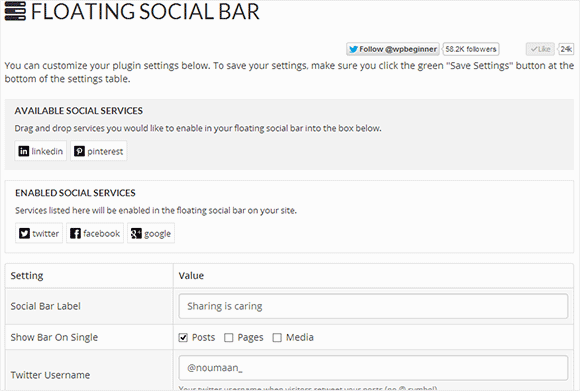 Previously when I was using Digg Digg I had to add custom CSS to draw borders that separated post title and content from the social sharing button. Floating Social Bar works out of the box and the base CSS should look good with most WordPress themes.
Conclusion: Floating social bar is a simple and easy way to add social media buttons to your posts. It is elegant, usable and does not slow down a site. Give it a try on your website.