Recently my internet service provider gifted me a webcam. It is a Creative Vista Webcam and came with an installation disk for Windows. I wanted to see how it works on my Ubuntu Linux. When I plugged it in Ubuntu didn't recognize it. I had to download drivers for it. Ubuntu's community documentation's Webcam page helped a lot. The EasyCam utility recognized my webcam but didn't offer a driver for it. So I tried manual driver installation.
Rastageeks provides a hacked driver for webcams. My webcam was listed on the Working Webcams webpage. The installation instructions were simple, and since I was familiar with adding third party repositories I had no trouble installing the debian packages. Running the module assistant installed the driver on my computer and now I was able to see it working in Ekiga.
But I don't use Ekiga, I use Yahoo! Messenger, so it has to work with Yahoo. We have Pidgin (Gaim) installed by default in Ubuntu. But it does not support Yahoo webcams. I have seen webcams working on Gyachi but I didn't like its cluttered interface. So I decided to try Kopete. KDE Wiki has a very helpful Kopete Webcam Support page. From there I found out that I need to download libjasper-runtime package to see my webcam working. Jasper Runtime package is called libjasper-runtime and is available from Ubuntu Archives so it was much easier to download and install it. After that I ran Kopete and by clicking on Settings > Configure > Devices I was able to see my webcam working. Fantastic!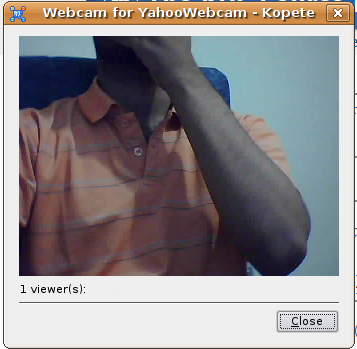 I was pleased with the picture quality. It was much better than Windows, and what I saw on Yahoo! messenger installed on my Windows PC. But unfortunately Kopete does not support Yahoo Public Chatrooms. So I had to try Gyachi again. While trying to Install Gyachi, I came across more dependency issues. But these were no big issues, I simply had to install two packages libgpgme11 and libmcrypt4. Finally getting Gyachi installed, this is what I got: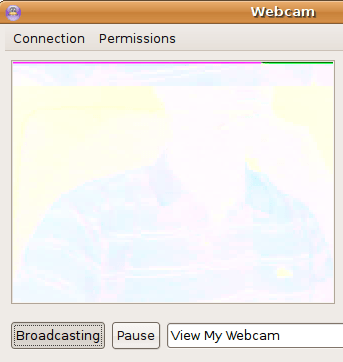 I browsed the forums to find out a solution, I read about adjusting brightness, contrast and colors. I did that too, but nothing worked. I am still unable to use the web cam in Yahoo chat rooms.